Real Money Progressive Jackpots – What They Are and How to Win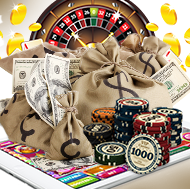 Anyone who spends any time in the casino, online or offline has heard about progressive jackpots. The stories that circulate of the winners of these accumulative pots are passed around the casinos like legends. It's what keeps us coming back – we are all chasing that top dollar jackpot.
But what actually is a progressive machine? Is it really possible to win one, or are the "winners" simply mythical stories created by the casino industry? And if they are real, how can you win one?
This article will explain to you in depth:
What a progressive is and how they grow
How to have the best chances of winning
Where to find the hidden top casinos with the best chances of winning
Keep reading to find out more!
Best Gambling Bonus Sites
Casino
Bonus %
Free Money
Payout %
Ratings
Play Now
How Do Progressives Work?
It's most common to find progressive jackpot pokies or video poker, over any other type of game. This is because of the way that the rollovers work. The reason why the jackpots get so exceedingly high is because every time a player participates in the game and doesn't win, a fraction of their expenditure goes towards increasing the pot. This system of play can't really be applied to blackjack or other single betting round games, but it works brilliantly with pokies, video poker and other video based games.
What Progressives Should You Play?
There are many different types you can play. The most basic is called the stand alone progressive. This means that the jackpot is not shared with any other machines, so the jackpots don't get too high – though they are easier to win. The in-house or proprietary progressives are linked with other machines that are owned by that particular casino. These have a medium chance of winning, relatively speaking, and the rewards can reach sizeable amounts.
Some share their progressives with other completely unrelated casinos, and that's when the pot gets enormous – and fast! These are called wide area progressives, and playing on these gives you the chance to change your life. But, the cost is, the chances of winning them are about the same as winning the lottery! You have to weigh up whether you want regular, small rewards or whether you want the once in a lifetime shot at the real money.
How Much Real Cash Can You Win?
Theoretically, there's no limit to how big a progressive jackpot can get. It just keeps growing until somebody wins the big one. With the shared rollovers, this means that the pots can grow up to an incredible 11 million AUD. That's a lot of cash!
However, usually the pools are won before they reach those numbers. Within the top 20 winners, most of them won around $7 million. So, while it's extremely unlikely that you are going to be flying around on a private jet for the rest of your life when your numbers come up, you'll still be travelling first class forever! It's like winning the lottery – the odds are stacked against you, but did you ever hear of a lottery winner who didn't buy a ticket? The rewards are too high to pass up.
Can You Ever Have An Advantage?
Some say that when jackpots reach a certain "tipping point", the odds become stacked in the players advantage. However, is it possible to tell when the pokies reach this level? How much will I have to play to reap the benefits of this player advantage? The answer, expectedly, is complicated. You have to have some serious mathematical skills in order to personally detect whether the machine is about to "go off". It can take months, or even years to develop the skills needed to analyse a machine. However, it is possible.
Fortunately for you, we have some resident progressive jackpot pokies experts who analyse the online pokies and let us know when a jackpot has built up beyond its usual amount. These machines are liable to release their real money rewards at any point, making them far more exciting to play!
In order to be guaranteed a player advantage you need to be able to invest a decent amount of time into playing. A few hours a month isn't going to do it. Professional players treat it like a usual 9-6 job. However, as a recreational player, you don't need to go that far. A few hours in the evening should be enough to even the playing field.
Can You Play On Your Mobile?
Smartphone users – rejoice. The world of online gaming has come a long way since its humble beginnings around a decade ago. Whether you have an iPhone or an Android, we've found awesome apps and sites that will be compatible with your devices. Playing on your smartphone works in the same way as your computer. You can still play in AUD and you can still participate in one of the wide area progressives and have a shot at the big money wins. The only difference is you'll be playing on a slightly smaller screen!
How Can You Find The Best Sites?
As dedicated gambling experts, players, and aficionados, we have years of experience when it comes to dealing with online sites. We spend the majority of our day searching the web for casinos that are just about to blow. We want to give our readers the advantage when it comes to progressive jackpot pokies, whether you are playing on your PC or mobile device. We want you to go home with a legendary bundle of real cash! So make sure you take advantage of our know-how to start playing on the best sites around, right away.