How To Play At An Online Gambling Site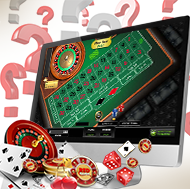 So you've looked into the world of online gambling and decided that the benefits of playing online are simply too good to pass up on. The tempting welcome bonuses, the generous VIP loyalty reward schemes and the outstanding variety make it something you simply can't afford to miss.
But you still have some questions and concerns remaining. How easy is it to sign up and start playing in an online casino? How trustworthy are the casinos? And how secure are the cash depositing and withdrawal options? Well, don't worry it's painless, hassle free and completely safe – once you have a grasp on the concept and follow basic security protocols. All the best casinos follow a very similar sign up structure, so read this as a one size fits all kind of guide.
Step One: Which Casino To Choose?
The first problem you'll encounter when signing up to a new casino is deciding which one looks the best! All of them have different offers, rewards, perks and bonuses that make them all seem tormentingly appealing. There must be a way of decoding which of the bunch has the best offer specially tailored for you. Not only that – but before you even get to this stage, you need to figure out which casino has the software that is compatible with your device. Let's go through the basic things you need to know before making your final decision.
Making Sense Of Software
First of all, make sure you are choosing a casino that has the right software. If you want to play on a Mac for instance, you are more likely to playing on games that use Flash. If you wanted to play on a mobile then you need a great app that's going to support your playing needs, and so on. It's incredibly easy to find the right one for you, as we've categorised amazing casinos by their device compatibility.
Searching manually may be a little more difficult and frustrating, as even though you may find one that is compatible with your device, the rewards and bonuses may not be as high as you were expecting. Alongside this, there are a lot of untrustworthy casinos out there that prey on uninformed newcomers. You need to make sure that you only ever choose casinos that have been recommended by reputable sites.
In our category you'll notice that all of the games listed have extremely competitive welcome bonuses and rewards, which leads us to our next step…
The Best Welcome Bonuses
If you've chosen a casino from our recommendation, you can't really go wrong in terms of bonuses, safety and overall gaming experience. We only ever list the best. Once you've made your choice the question remains – how can I sign up and how do I get access to that free cash?
First You Need To Create An Account
Once you enter the casino you will be directed to a sign up screen. Depending on your device, you may have to download software onto your computer. Don't worry; if it's one of the casinos that we have recommended, this will be completely harmless and secure. We can't make any promises for other casinos.
Once you are in the sign up screen, you simply enter in your name, email address and select your payment preference. Fill out your payment information, while taking adequate safety precautions. Always fill out sensitive data over a secure Wi-Fi connection and ensure that the casino is a trusted one. Once this is completed you'll need to make your first deposit. Simply enter in the desired amount, bearing in mind that your first deposit is the most important one as that's when you can bag the best bonuses. Most casinos match your deposit dollar for dollar and some may even triple the amount. Make sure you get the best possible bonus, as this is going to have a huge impact on your gaming and will give you a huge beginners boost.
The Fun Part
Now that the money is in your account your welcome bonus will be pending. You need to make your first wager to truly unlock it. The only way you can withdraw the welcome bonus is by winning it back! A good tactic is to stick to making low risk bets so you can pocket the free money along with the profits.
Make sure that when playing with a new casino, you practice first in the free play games. This will get you used to the new software, the controls and the method of play so that you know that when you are playing for real cash you will be at the top of your game.
Join a game by simply selecting you preferred casino game and then clicking "join game". You will be entered into a round and may have to watch and wait for the current round to end before you can participate in the next, depending on your choice of game. Then you can make your bet and play your hand, spin the wheel, et cetera. This will successfully unlock your welcome bonus and enter you into the online gambling community. Welcome and good luck!