Pokies – How They Work And How To Win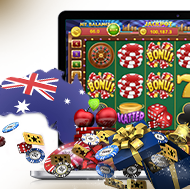 Pokies are an institution in Australian gaming. A rudimentary version was developed in the early 1900's in the USA, but an Australian company who saw the promise for so much more quickly adopted the game in 1953. Aristocrat, the pioneering slot machine company, created a game known as "Clubman" – and the rest is history. Gambling was forever changed in Australia, thanks to the timely legalisation of gambling in 1955, and the world over.
Pokies, as slot machines came to be known in Australian slang, have been dazzling and delighting players with their quick spins, bright lights and unpredictable rewards ever since. We simply can't get enough. Read on to discover the face of pokies in the modern day and what the experts are doing to make the most of the exciting game.
How To Play Pokies
One of the main reasons why pokies provide such a universal appeal is that the game is so easy to play. You simply insert you cash or token if playing in a land based casino. If you are playing online, you make your deposit to the casino and then you can use your credits to play on whatever game you please. You choose which bet you'd like to make and then you pull the level, either physically or by pressing a button online. This activates the reels, which spin until randomly stopping on a combination of 3 or 4 brightly coloured icons. These are usually images of fruits, images of cash symbols or the iconic liberty bell. If the centre of the reels matches up to any of the designated winning combinations you are rewarded with a cash prize. Easy, right?
Of course there are machines that can be a little more complicated than that. Some offer the chance to climb to the jackpot through a series of "holds", "nudges" and "spins". These are a little more risky, but often offer a bigger reward. Some pokies offer bonus levels or free spins, or multi-way versions of the games, where it's possible to win if a matching symbol appears anywhere on the visible reel, not just the centre. These are easy enough to play, and if you find them you should take advantage of them, as often they favour the player.
How Pokies Work
Pokies operate by using a Random Number Generator, which determines which sequence the reels will land on when you pull the level. It is continuously producing new sequences, even when not in play. So, there's not a pre-conceived order of numbers, it's completely random. If you had played 5 minutes earlier, maybe you would have pulled out the jackpot! Playing with this system technically means that the jackpot has as much chance of being played on the first pull of the lever as the 1000th.
However, pokies are programmed with a certain payout percentage. This means that the machine must pay out that amount over a certain period of time, usually around 10 years or so.
The percentage is always tipped in the casino's favour, with payout usually at 95% or so, however, every now and then there are legendary machines that seem to have been unlucky for everyone for a long time. These machines need to balance out before the time is up, and that means that they are ready to "blow" at any point, and release the jackpot. Either that or they will payout lots of small rewards, either way; players can make a profit keeping an eye out for these machines.
The Different Types Of Pokies
Progressive jackpot pokies, like the roll over lottery, collect money from each losing players bet, and contribute it to an ever-growing pot. These are the most well-known games in the casino, online and offline, due to their significant payouts. There are stand-alone progressives, which only take money from people playing that particular game. In house progressives, which collect from the entire casino and wide area progressives, which share the jackpot with many other casinos.
These jackpots are enormous, yet of course, extremely difficult to win. The best chance you have on winning are with the smaller rewards, however, it can be difficult to resist the allure of the wide are progressive jackpots, as they can often reach up to 7 million AUD. That's truly a life altering amount of cash.
Other types of pokies include multiple payline games. With these, the more you bet, the more "paylines" open up to you. This means that the longer you play, the greater your chance of winning becomes. You can now play with up to 25 paylines on the go at once. And if you're not making bank with 25 chances to win, then perhaps it's not your lucky day, and it's time to call it a night! You can also play multiplier pokies, which take into consideration the number of coins or tokens you played with and then that is multiplied for your winning score.
Where To Find The Best Pokies
Of course, it's easy to get overwhelmed with the vast number of games out there. Which one to choose? Are there any bonuses? Which one has the best payout percentage? The house edge can be as high as 12% for some machines, it's basically handing money over to the casino!
Our site is dedicated to presenting you not only with the most up to date and relevant information about casinos, both online and offline, but also with helping you to find the perfect online site for your gaming needs. We diligently root out the casinos with uncompetitive payouts and little incentives to play, and instead present you with games that offer bonuses, rewards VIP programmes and, best of all, an unbeatable house edge. We know how difficult it can be, knowing who to trust online. That's why all the sites we recommend have been audited by third party websites that ensure industry standards, and all are moderated by the International Gaming Authorities. So you can spend less time worrying and searching, and more time enjoying yourself in the casino.