10 Easy Gambling Tips That Lead To Quick Success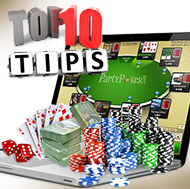 Spending time in the casino can often be a daunting affair. The people around you seem to be raking in the cash – but it's just not happening like that for you. What do they know that you don't? The answer is simple. They all follow these simple tips that help them to get the edge over the other players, and the casino. Read on and join the ranks of the successful casino players!
1 - Look Out For The Best Welcome Bonus
Looking out for the most generous welcome bonus is the first and most important thing you should do when checking out online casinos. This is the largest and most useful real cash bonus you can ever hope to receive when gaming online. In order to benefit from this reward all you have to do is open an online casino account, make a deposit and place your first wager.
How To Find Great Bonuses
The bigger the bonus, the more chances you have of winning that jackpot, so you want to make sure you find a big one. We've done the hard work for you as all casinos that we recommend have the highest welcome bonuses available online.
2 - Avoid Following The James Bond Theory
We've all seen James Bond. He sits in a casino, martini in one hand, and a beautiful girl in the other, looking suave and he always seems to come out on top. Don't be fooled into thinking that drinking and gambling are a match made in heaven. The more you drink, the more your money will slip through your fingertips.
Key To Success
The key to this is to play it smart. Drunken bets are dangerous. Reasoning and control are vital ingredients and the more alcoholic beverages you consume the less of this you have. Even if you're tipsy, you are more likely to make silly mistakes, which result in losing bets. Don't let alcohol influence your gambling. Having a sober and clear mind is essential. So try not to be tempted by those free drinks!
3 - Play Games That Have A Small House Edge
A casino needs to bring in the clams and a built-in house edge is the way in which it does so. Casinos profit by having around a 5% advantage over the player. While this doesn't matter in the short term, over the long term this adds up. The higher the edge, the faster yours will disappear.
Choose Wisely
The house edge differs with each game. Popular table games like blackjack, craps and baccarat tend the have the smallest house edge. Avoid games that tend to depend solely on luck rather than chance, like pokies, as these often have a much higher and more rigid house edge, though the payout may be higher.
4 - Make Sure You Really Know The Game You're Playing
Truly understanding how to play a casino game dramatically improves your chances of lasting longer and having a lot more fun. Don't just rush head first into a game that you "kind of" know. You'll be eaten-up before you know it.
Choose Wisely
This is your hard-earned money that you're gambling with, so take some time to properly research the games that you would like to play. Read up on all the rules and strategies for each game before you commit to losing money.
5 - Know When To Quit
Every successful gambler has this skill mastered. Knowing when to quit is one of the most important skills to have but also one of the hardest to gain. This is because it requires discipline.
Don't end up chasing your losses! Keep in mind that every gambling session has to come to an end. Of course we all want happy endings but this is the gambling world, the odds are stacked against you.
Set Yourself Limits.
Decide before hand how much time and money you are willing to spend in one session and keep to those limits. This way, when you quit you will never be too disappointed and broke. Even try gambling half of what are happy to risk. If you lose, you can give yourself a second attempt another day.
Seek to be a winner in the long run. You may have quit this session with a loss but now you have money to give it another crack another day.
6 - Take Regular Breaks
Whether online or offline, successful casino gambling comes through being focused and alert, especially with the more strategic games. So stay focused and alert by taking frequent breaks.
Get A Breath Of Fresh Air And Fresh Perspective
Take some time away from the gambling environment you find yourself in, whether a table in a casino or a computer screen. Gather yourself, replenish your mind, get some fresh air and cool off. When you feel fresh and ready again, you can return and get back in the zone.
7- Only Gamble Money You Can Afford To Lose
If you need the money, don't gamble with it. Gaming money should be the money you have set aside for entertainment. If you're struggling to pay next month's rent or to pay the bills, you need to think again about risking it on a wager.
Desperate Gambling Can Lead To Serious Financial Problems
Gambling isn't a way to earn money you haven't got; it's a way to possibly increase the excess money you already have. It's full of ups and downs, but ultimately it should be fun. There is nothing exciting about asking friends and family to loan you money for next month's rent!
8- Don't Be Greedy
Greed leads to the fall of many players: make sure you're not one of them! When you are ahead it is easy to get excited by the free champagne poured out by the house, making you want to chase the high by betting all the money you've just won. This is a psychological trap carefully laid down by the casino to win back the money you just won- don't let them beat you!
Put A Percentage Of Winnings Away
Don't lose your winnings! When you are up, set aside some of the winnings and continue betting with the rest. Once that money has gone, call it a day. This will guarantee that you leave with more cash than you started with. You're a winner!
9 - Keep A Record
You may have had winning periods but that doesn't mean you are a successful gambler. You will undoubtedly have winning phases and losing moments when gambling. Being a successful gambler is when your total winnings surpass your total losses. Keeping a record of your wins and losses gives you a clear idea of the total amount you are up or down by.
Log Your Progress To Change Bad Habits
Keeping track of your gaming allows you to make adjustments to improve your gambling success. You will be able to see which games you are winning more money from, and more importantly, games that are eating up your profits. Then you can specialise in order to optimise wins and minimise losses.
10 - Maintain A Healthy Lifestyle
A healthy body is a healthy mind and a healthy mind is crucial when gambling. Stay fresh and vibrant by looking after your physical needs and staying in good form.
Staying Healthy In The Casino
Make sure you keep hydrated by drinking lots of water throughout the day. This will keep you alert and refreshed. Stand up and walk away from the table or screen every now and then, and make sure you are getting regular exercise. Exercise makes you feel good about yourself, creating a positive mind-set. When you are not feeling too good about yourself you are more likely to make careless bets, so go to the gym or take a run a few times a week in order to stay positive.