Online Gambling FAQ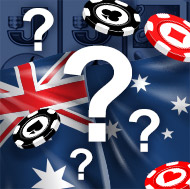 People are always turning to the Internet in search of answers and, when it comes to online gambling, things are no different.
Over time, it has become clear that there are simply some questions that we see asked over and over again, so we created this page to post answers to all of the questions that we see most frequently. Read on to get all our best responses and see if your question is answered below.
Can I play legally in Australia?
Yes, you can. Online gambling is basically 100% legal for all adults. The only current limits are in place to restrict what businesses can and cannot do. As long as you just want to gamble, you have nothing to worry about as an Australian.
Do I have to pay tax on my gambling winnings?
In short, no, you don't. Australia looks at gambling as a kind of hobby and therefore cannot tax any money you win. If, for some reason, you believe your winnings count as personal income (like, winning as a result of receiving entry to a tournament as a form of professional payment), you should meet a lawyer to split hairs. For the rest of us, it's all tax free.
Can I gamble on my mobile phone or tablet?
Yes, you can. The top online gambling sites now have apps for all major mobile brands. This software lets you play from the exact same player account - for free!
What is a welcome bonus and how do I get one?
Welcome bonuses are the most common way for online gambling sites to reward new players for joining. All you have to do is create an account and, in most cases, make a qualifying real money deposit.
Do I have to download gambling software?
Not necessarily. A lot of players still choose to download gambling software because it may have more features than no-download interfaces, but with rapidly developing Flash technology, no-download gambling is improving by leaps and bounds.
Are these online gambling sites fair?
You'd better believe it! The sites that earned a spot here did so by treating their players fairly year after year. With the extra assurance that comes from regular third-party auditing, there's really nothing to worry about.
Is my financial data safe with Australian gambling sites?
As long as you don't stray from the trusted sites that we list here, you can rest assured that your gambling provider is taking measures to prevent identity theft. It generally comes in the form of encrypted secure connections, as well as preventative database policies.
Can I play for free?
Yes and, to start with, you probably should. Playing for free is the ideal way to test a variety of online gambling sites without risking anything. The only catch is that you need to play with real money if you want to win real money. Once you know that you like one of these sites, though, you can easily make an account and start winning for real.
Top Online Gambling Sites
Ready to put this knowledge to use? Now is the perfect time to sign up with an online Australian gambling site, where you can win real money online. The sites listed here went through a careful review process to make sure they are right for Aussies like you, but don't take our word for it. Sign up for free - no commitment required - and see what makes these sites the best in the world!