Online Gambling Deposit Methods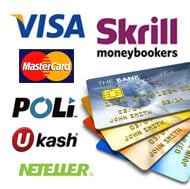 Selecting from among the many online gambling deposit methods can be a bit complicated, but it doesn't have to be.
We're here to help protect your bankroll and the first step to doing this is making sure you are handling your banking safely. Read on to discover the simplest, fastest, and safest options for Australian gambling enthusiasts - and they're all accepted at the premium Internet gambling sites like those recommended here on our site.
There are a lot of different ways to complete your online gambling deposits but they basically each fall into one of three categories. You have credit cards, eWallet accounts, and prepaid cards. We have listed our favourite options in each of these categories - each of these online gambling deposit methods was chosen by Australians for Australians, and they're all widely accepted at the top Internet gambling sites.
As one of the largest payment processing companies on the planet, you can trust that Visa has what it takes to keep your online gambling deposits safe. They offer instant deposits (which are actually free) but you may not feel comfortable sharing so much personal information.
MasterCard really goes to extremes to keep its cardholders safe - both online and off. It's one of the most widely used online gambling deposit methods, but you should be aware that it can no longer be used for withdrawals.
Say what you will about the pros and cons of doing your online gambling banking via credit card - it's unbelievably popular. There's no need to sign up with new services, you can trust the card provider completely, and you may even receive bonus points for your gambling deposits!
Looking for an eWallet? Neteller was designed with gamblers in mind, including Australians, and they just get bigger and better every year. Remember, online gambling deposit methods like Neteller are the best way to keep your personal info away from prying eyes.
Years ago, all of the major Australian banks came together to create POLi. It is a streamlined way to handle online gambling banking using your standard bank's site. There's no sign up necessary and you just deal with the same bank that you've trusted for years.
Where to Use the Online Gambling Banking Methods.
These deposit options are all 100% Aussie-friendly, and they're all 100% safe, but only represent half of the safety equation. Make sure you are playing with one of the approved websites listed here to keep yourself safe and enjoy any of these recommended online gambling banking methods.